Performance of MLI (Mueller Industries Inc) - Total Returns
Total Return comparison between Mueller Industries Inc and its related Sector Index XLI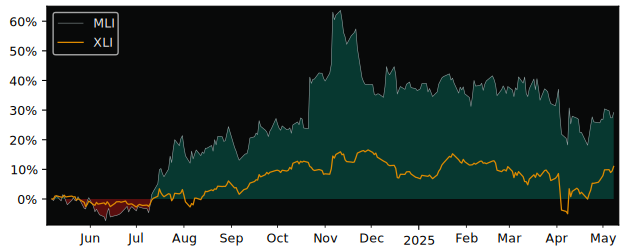 Performance Duell MLI vs XLI
| TimeFrame | MLI | XLI |
| --- | --- | --- |
| 1 Day | -0.66% | 0.44% |
| 1 Week | 4.10% | 2.48% |
| 1 Month | 8.71% | 7.10% |
| 3 Months | 13.89% | 2.30% |
| 6 Months | 5.44% | 8.46% |
| 12 Months | 33.26% | 11.01% |
| YTD | 47.71% | 11.85% |
| Rel. Perf. 1m | 0.16 | |
| Rel. Perf. 3m | 0.30 | |
| Rel. Perf. 6m | -0.35 | |
| Rel. Perf. 12m | 1.80 | |
Comparison with the Market (Total Return):
Values above 0%: MLI is
performing better
- Values below 0%: MLI is
underperforming
Why you need a Total Return Perfomance Comparison?
Comparing the Total Return of Mueller Industries Inc with its related sector or the XLI index is a fundamental analysis that provides investors with a comprehensive perspective on the company's performance. Total Return encompasses not just stock price changes but also factors in dividends and other income sources, offering a more holistic view of investment outcomes.
This comparison allows investors to assess how Mueller Industries Inc returns stack up against the performance of its broader sector, the XLI index. Ratings above 1 on the
Relative Performance Scale
signify that the investment is performing well, while a rating exceeding 2 indicates exceptional performance. Consequently, this analysis assists investors in making well-informed decisions about their investments by providing insights into whether Mueller Industries Inc is outperforming or underperforming its sector in terms of total returns.