Performance of KMPR (Kemper Corporation) - Total Returns
Total Return comparison between Kemper Corporation and its related Sector Index XLF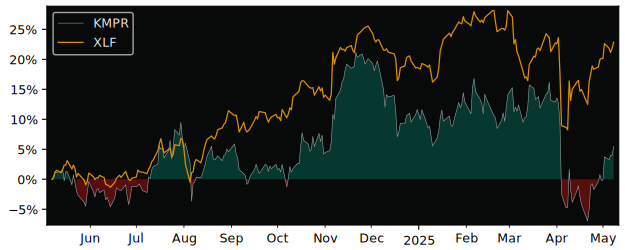 Performance Duell KMPR vs XLF
| TimeFrame | KMPR | XLF |
| --- | --- | --- |
| 1 Day | 0.56% | -0.50% |
| 1 Week | 7.70% | 0.76% |
| 1 Month | 12.78% | 6.21% |
| 3 Months | -0.65% | 4.69% |
| 6 Months | 6.62% | 9.24% |
| 12 Months | -12.92% | 5.09% |
| YTD | -2.80% | 6.06% |
| Rel. Perf. 1m | 0.46 | |
| Rel. Perf. 3m | -0.60 | |
| Rel. Perf. 6m | -0.58 | |
| Rel. Perf. 12m | -1.99 | |
Comparison with the Market (Total Return):
Values above 0%: KMPR is
performing better
- Values below 0%: KMPR is
underperforming
Why you need a Total Return Perfomance Comparison?
Comparing the Total Return of Kemper Corporation with its related sector or the XLF index is a fundamental analysis that provides investors with a comprehensive perspective on the company's performance. Total Return encompasses not just stock price changes but also factors in dividends and other income sources, offering a more holistic view of investment outcomes.
This comparison allows investors to assess how Kemper Corporation returns stack up against the performance of its broader sector, the XLF index. Ratings above 1 on the
Relative Performance Scale
signify that the investment is performing well, while a rating exceeding 2 indicates exceptional performance. Consequently, this analysis assists investors in making well-informed decisions about their investments by providing insights into whether Kemper Corporation is outperforming or underperforming its sector in terms of total returns.